Students and Parents Hear from KMOV's Laura Hettiger
Laura Hettiger from KMOV, Channel 4 News and Great Day St. Louis came out to Lonedell R-14 School District to share her story with our students and parents. Hettiger was raised in a small town much like Lonedell. She was a cheerleader and self-described "dorky" kid, complete with braces and pimples.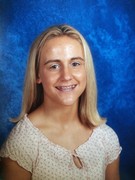 As we all know, life as a teen is difficult. In Laura's case, there was some bullying. This bullying included the painting of her car, egging of her house, and hurtful comments about her father who had fallen ill. Through all of these events, Hettiger was guided by her parents, who reminded her that these problems were only temporary. As Hettiger grew, went on to college, and began her career, she realized just how right her parents were. "They told me not worry about the garbage. It seems huge when your young. Then after you look back, you can barely remember the name of the person who didn't invite you to their party."
Each child was asked to close their eyes and honestly answer 4 questions. 1. Had they received a complement on social media. 2. Had they given a complement. 3. Had they received an unkind remark. 4. Had they made an unkind remark. Hettiger thanked them for their honesty and spoke with the children about what a difference social media makes. It allows comments to be made instantly. In the past, children have had time to consider their statements before confronting others. Children are often comparing themselves to unattainable images and posts. They are nearly constantly reminded of what classmates are doing, how they are dressing, who they are hanging out with, and how "perfect" their lives are. Of course, this is mostly a facade, with posed and filtered pictures and posts that often sound more exciting than they were in real life.
As a takeaway, Hettiger challenged each student to say one kind thing to a person they don't usually interact with. "It feels good to get a complement, as we talked about with the question I asked. Just one kind word can really make a difference." She asked them to step in when they saw unkind comments or actions.
Later that evening, Hettiger spoke with many of our parents, sharing how well behaved the students were, how poignant their questions had been, and how great a job they were doing. There was an open discussion about social media, how to protect your children, and how best handle this tool that is changing at a pace quicker than can be easily managed. Several parents had really good input as to best practices that have worked for them. Angela Hill, Technology Coordinator, shared information on some of the apps that are popular with kids today, and ways to ensure you are aware.
1. Know the apps your child is using.
2. Enforce privacy settings on these apps.
3. Set up Restrictions on your child's device.
4. Limit the time your child spends on devices.
5. Make sure children's devices are being used in open areas.
6. Remember, you are in control of these devices.
7. Social media is not necessarily bad, but requires careful management.
We will continue to share information about how you can educate yourself on the options you have, the apps that are available, and ways to keep your students safe. Come back to our Know Your Technology page frequently.
Check out this article on how are students are becoming leaders in Digital Citizenship.