Top Stories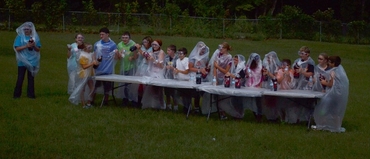 The fifth through eighth grade have an additional 7 Habit Club each day as part of their schedule. The students were divided across grade levels into groups. The groups began with a week of team building activities to get to know their club mates. The first quarter is focusing on a habit a week. The 7 Habits are: Be Proactive, Begin with the End in Mind, Put First Things First, Think Win-Win, Seek First to Understand, Then to Be Understood, Synergize, and Sharpen the Saw.
The first picture shows an activity the students participated for habit 1 about being proactive or reactive. They were learning is they were like a soda pop or water. The other two pictures are of students working on an activity to illustrate habit 3 Putting First Things First. The most important things are the big rocks and all the little details will fit in around them.
Students will transition into clubs during second quarter for the remainder of the year. The students will use their 7 Habits to participate in service learning that would benefit the school and community. The clubs will be decided on between the staff and students. Some example clubs may be recycling, art, school beautification, etc.
read more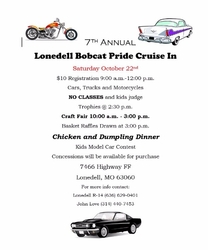 7th Annual
Lonedell Bobcat Pride Cruise In
Saturday October 22nd
$10 Registration 9:00 a.m.-12:00 p.m.
Cars, Trucks and Motorcycles
NO CLASSES and kids judge
Trophies @ 2:30 p.m.
Craft Fair 10:00 a.m. - 3:00 p.m.
Click here to download a craft fair application
Basket Raffles Drawn at 3:00 p.m.
Chicken and Dumpling Dinner
Kids Model Car Contest
Concessions will be available for purchase
7466 Highway FF
Lonedell, MO 63060
For more info contact:
Lonedell R-14 (636) 629-0401
John Love (314) 440-7453
read more