Pink Out Game To Be Held December 19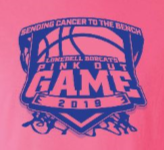 Come support Lonedell and the American Cancer Society as we take on the Grandview Eagles on December 19th starting at 4:30 pm. We will be donating funds from the evening to fight cancer. Donations can be made payable to the Lonedell R-14 School District, sent to the attention of Angela Hill or Garret Gliedt. Join our players and cheerleaders by decking out in your pinkest outfit! We will hold a 50/50, and other fun events during half times of the games. Come help us send cancer to the bench.
You can order a shirt by downloading this flyer and returning it to school with your student. If you do not have a student and would like to order a shirt, contact Angela Hill.
Click here for tshirt order form.